Erika Lori finishes her ultramarathon in record time!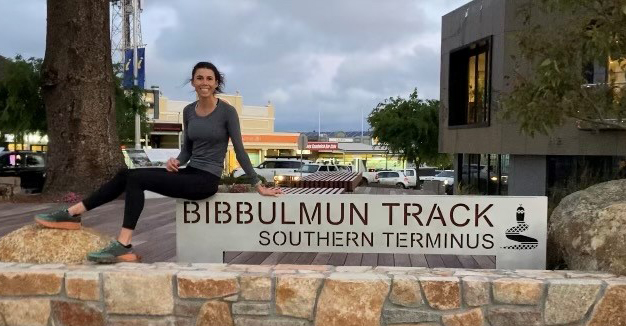 Erika Lori completes Bibbulman Track ultramarathon
We bring thrilling news about Erika Lori, Physiotherapist from the State Head Injury Unit (SHIU): not only has she completed her Bibbulman Track ultramarathon but she has done so in the fastest known time ever!
On the evening of Monday 25 October amidst the drizzle and dark skies, Erika crossed the finishing line having run 1003km from Albany to Kalamunda.
At last count she has managed to raise more than $4,000 for the Blue Tree Project (external site) from donors supporting her achievement.
Erika has been encouraged along the way by her supportive and proud colleagues who had the best things to say about her feat:
"In usual Erika spirits, she crossed the line with a beaming smile and also did a victory dance! Her energy levels are astounding!"
- Miffy Durham, Program Manager, SHIU
"What an absolutely incredible achievement – excellently well done indeed, we are all super proud of you AND your contribution to raising awareness and funds for mental health…"
- Belinda Veary, Case Coordinator SHIU
"Amazing, what an achievement. She is incredible."
- Donna Lindop, Case Coordinator SHIU